An ideal base for exploring the Lake District
Touring caravans and tent campers are welcome and the Park is not only an ideal base for exploring the Lake District and Cumbria but also a great location for a relaxing break in journeys to or from Scotland.
Our rural setting gives plenty of space (including parking alongside pitches) as well as woodland shelter and screening.
The facilities available to visitors include:
Hot water (at no extra cost but as available)
Wash basins with multi-shaver points
Flush toilets
Free showers
Coin-operated laundry
TV signal: as we are situated in a country setting, TV signal is difficult to obtain.
Pitches 1-26 free view supplied but a 15m coax cable is necessary
Pitches 27-30 a satellite box and coax cable are necessary
Pitches 31-40 own TV aerial required
Pitches 41-58 free view supplied but a 15m coax cable required.
To keep our guests safe and able to  receive the best experience possible we will NOT be accepting  group bookings this year,  up to 2 households only.
We will require all our guests to follow all our restrictions and guidance of park rules, failure to follow these will result in guests being asked to leave and no refund will be given. Thank you for your understanding throughout this season.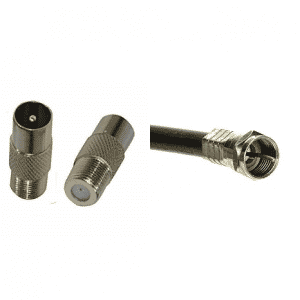 For pitches 1-26 you will need these types of fittings for the ends of your coax cable.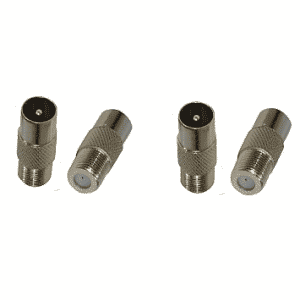 For pitches 41-58 these are the types of fittings you will need for the ends of your coax cable.
Availability and Bookings
We have space for over 150 tents and tourers but it is always advisable to book ahead as we are often fully booked during peak holiday seasons.
To check on availability, to book your break or to find out more, please call us on 017684 86666 between 9am and 5pm or contact us via email info@ullswaterholidaypark.co.uk.  Debit card or cash payment is preferred. Our usual booking period is a minimum of 2 nights throughout the season apart from bank holidays.
We now have some all-weather grass pitches (as pictured to the left), electric tent pitch numbers 5, 6 and 7. Grass area 8.5m x 4m, with car parking beside the pitch.  You will need rock pegs for these pitches.
~Happy Camping~
Photo Gallery
2021 Season Calendar

Please note : All electric 10kw of elec per day. Additional cards may be purchased.
2021 Tents & Touring Prices
| | | | |
| --- | --- | --- | --- |
| Electric pitch Caravan/Tent/Motor-Home (inc. 2 adults, awning, electric, car) | £24.50 | £32.50 | £36.00 |
| Tents/Caravan/Motor-Home (inc. 2 adults, car) | £21.00 | £29.00 | £32.50 |
| Extra Adult (16+) | £4.35 | £4.90 | £5.95 |
| Children (3-15) Under 3's free | £3.30 | £3.30 | £3.55 |
| Extra Car/Tent | £3.55 | £5.95 | £5.95 |
| Gazebo | £3.10 | £3.10 | £3.10 |
| Dogs (must be on a lead at all times) | £1.80 | £1.80 | £1.80 |
| Cabins 1-4 (Dogs only accepted in Cabin 2) | £42.00 | £44.00 | £48.00 |
| Cabins 5-7 (Dogs only accepted in Cabins 6 & 7) | £79.00 | £84.00 | £89.00 |
| Boat Parking | £8.50 | £8.50 | £8.50 |
TERMS & CONDITIONS FOR ALL ACCOMODATION
TENTS & TOURERS
We are a family park, so no single sex parties or young groups will be accepted. The lead booker must be over 25.
All bookings require a minimum of £50 as a deposit. If the total is below £50 then full payment is required when making your booking.
*Deposits are non-refundable. This guarantees admittance, not a particular pitch. *
No refunds will be given due to poor weather conditions.
Disposable barbeques are accepted if they are raised off the grass and only coal is burnt on them. No wood is to be burnt. OPEN FIRES ARE NOT PERMITTED ANYWHERE ON SITE.
All visitors are requested to book in at reception on arrival where your car registration is required.
A maximum speed limit of 5mph must always be observed. Only holders of a full driving license shall drive a vehicle on the park.
Pitch available 12noon to 12noon. Please arrive before 9pm unless prior arrangement made. The proprietor reserves the right to re-let pitches if not taken by 12noon the following day of booking.
At certain times in low or mid-season the bar may not be open.
Dogs are welcome on site, but they MUST always be kept on a lead and under control, they must also be exercised at a dog walk provided on site or off site.
No noise after 11:30pm is permitted, persons not abiding by these rules will be asked to leave the site and NO REFUNDS WILL BE GIVEN.
Please use recycling facilities provided.
Prices are inclusive of hot water & showers as available.
Liability is not accepted for accidents to clients and their guests, or of the loss or damage to personal property.
We do not accept generators onto the site.
All electric pitches include 10kw of electric per day, additional cards may be purchased at reception.
CAMPING CABINS
Please follow all the above terms and conditions with the following changes:
Camping cabins are available from 12 noon to 10 am.
Cabins need to be paid in full at time of booking.
UNDER NO CIRCUMSTANCES SHOULD GAS APPLIANCES BE USED IN THE CABINS DUE TO CARBON MONOXIDE POISONING; THIS INCLUDES FIRE & CHARCOAL BBQ's.
PRIVACY POLICY
We collect information about you, such as name, address, phone number & email address to process your order. We do not release personal information to other traders or third parties, except to process your order or if your consent is given. We reserve the right to send you occasional emails, mail, or text messages for marketing. Once again, we do not pass on to third parties.
Availability Checker
Ready to Book? Check pricing and availability for this property and all other properties at the Ullswater Holiday Park.